Zoe Magee of Zoe Bikini has been selling swimsuits in the Mission for a decade. And yes, you'll find itsy-bitsy, teenie-weenie, polka dot bikinis.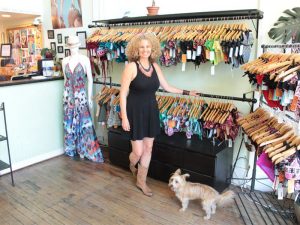 On 18th St. in the Mission, tucked between a salon and a wine bar, is a swimsuit boutique called Zoe Bikini. The brainchild of Zoe Magee — who designs every piece herself — its front half is filled with tropical foliage, healthy, size-6 mannequins, and racks upon racks of brightly colored bikinis.
The back half of the store, behind the desk and dressing room that Magee and her father built, is where the work stations are. Beside a cutting table littered with heaps of half-finished suits, a sewing machine sits equipped with every color thread imaginable, and there's an entire wall of shelves dedicated to tiny glass jars filled with beads, rings, and other gewgaws.
Zoe Bikini celebrated its 10th anniversary as a brick-and-mortar shop this February, and while that's a feat for any small, independent business, it is especially so for this shop. San Francisco is not a warm city, and bikinis can be a hard sell because there are so few opportunities to wear them. For years, obtaining a Zoe Bikini wasn't easy for out-of-towners, as Magee didn't have an online shopping option on her website until last November. But perhaps the biggest accomplishment is the fact that Magee has been able to retain her location in the heart of the Mission District despite all of the changes that the neighborhood has seen in recent years.
When Magee moved into the mint-green-and-white painted space in 2007, there was a fish market on the corner and her neighbors were a tattoo parlor, a noodle factory, and a nail salon. It was also thriving from a retail standpoint. (Click here to read more)