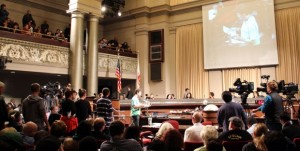 The first thing the crowd noticed at the Thursday night Occupy Oakland City Council meeting was the table piled with signs, shields, and protective gear that police had taken from demonstrators during Wednesday's Occupy Oakland-led strike. "They're bringing in signs and stuff. Really? Oh my God," said Ishua Bnjoube, an unemployed Occupy Oakland demonstrator who was leaning against the back wall of the Council Chamber. "This is going to be really interesting."
The meeting, which began a little after 5:30 pm and continued until 11 pm, was held to discuss recent events pertaining to Occupy Oakland, notably the vandalism and property damage that occurred late Wednesday night, when protesters clashed in the street with police officers. Almost 150 people signed up to speak before the council.
All eight city council members were present at the meeting, although Councilwoman Patricia Kernighan (District 2) and Mayor Jean Quan arrived roughly an hour late. By the time the meeting began, a couple hundred people had packed into the council chambers. The extra screening rooms on the first floor of City Hall were also used to accommodate the crowd.
During the first speaker session of the council meeting, a majority of speakers decried the mayor's, city council's, and police department's treatment of the Occupy Oakland camp and its supporters since the group's initial eviction from Frank Ogawa Plaza in late October. (Click here to read more)