Bishop Briggs has made a name for herself as a moody, melancholic singer, but there's more than one side to her.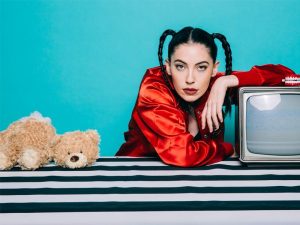 Sometimes, mixing business and family can be a terrible idea. Other times, it can be a boon for the whole clan. Fortunately, things worked out for indie-pop singer Bishop Briggs and her older sister Kate.
Kate is Bishop's manager, handling the singer's Instagram account and day-to-day activities, and sometimes even moonlighting as Briggs' "part-time therapist."
"It's really nice working with my sister," Bishop says. "There's something about having a sibling that you know will always stick with you."
As Bishop tells it, Kate has always stood up for her younger sister. The 24-year-old shares a story about a time in high school when Kate came to her defense after a guy Bishop was dating started making out in front of her with two girls at a party.
"He kept his eyes open when he was doing it," Bishop recalls. "Like, who does that?"
Sobbing, she left the party and called Kate. And then Kate showed up.
"I don't really know what happened," Bishop says. "I've tried asking her, but she still hasn't really told me exactly what happened."
Whatever went down ended up working in her favor, and the boy became even more invested in Bishop than before. (Click here to read more)