Marielle V. Jakobson's new album, Star Core, will make you feel like you're on drugs.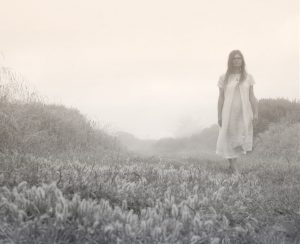 Last Saturday night at The Lab, roughly 50 people tripped — on music.
Around 10:30 p.m., after a number of failed attempts at setting up the projector, a petite, flaxen-haired woman by the name of Marielle V. Jakobsons took the stage, along with backing bassist Chuck Johnson. Conversations among audience members faded into silence as Jakobsons, robed in a white dress with red stitching, adjusted her position under the lone spotlight. A ray of light beamed from the projector, and psychedelic, abstract patterns fluttered in the background — the result of an instrument Jakobsons built that uses sound vibrations and light to create images in a small pool of water.
Things were already starting to get trippy, and the music hadn't even started.
Holding a flute to her lips — the same flute that she played in her middle school band class — Jakobsons blew a long single note. Using her laptop to loop and distort it, the 34-year-old waited as the note replayed through the speakers, coated in feedback. Buzzy streaks of synthesizer that sounded like shots from a ray gun peeled through the air, followed by a weightless, tinkling piano melody that sounded like it could defy gravity. And then came the violin: hypnotic and flirtatious, with an exotic bent that could have been culled straight from the 1970s Alejandro Jodorowsky film Holy Mountain.
As blurry swathes of orange, pink, and purple morphed into indecipherable shapes on the screen, the crowd sunk into a stupor. In place of the sounds of whispers, clinking beer bottles, and creaking chairs that once filled the room, now all that could be heard was breathing. Calm, measured, and relaxed inhales and exhales from a room of people who hadn't ingested drugs but were definitely off in a far away place. (Click here to read more)